Nanam's head chef takes up the challenge.
By Mel Fernandez
Here's yet another culinary competition, but this one has a curious twist. According to the producers at TV 2, Snack Masters NZ 'sets an unorthodox challenge for our top chefs – to try to work out the secret techniques and recipes behind some of New Zealand's best-loved Kiwi snacks, before creating their own replicas'. At the end of the episode only one will win the title of the ultimate Snack Master.
The first episode airs on Wednesday, 11th May, at 7:30pm on TVNZ 2.
Check out other food videos on our FOOD CHANNEL: www.halohalo.nz
'Each week two well-known chefs battle it out to make perfect replicas of one of NZ's best-loved snacks. With nothing to help them other than limitless supplies of the snack and their tastebuds, can they work out the genius behind these seemingly simple snacks?'
Hosts Kim Crossman and Tom Sainsbury follow some of NZ's top chefs every step of the way to share in their culinary triumphs and failures, while also heading to the heart of the product's factories to unlock for viewers the mysteries of how they're really made.
Each episode culminates with the two chefs cooking their version of the snack head-to-head before a judging panel of the factory's workers. Which chef will be crowned champion? And can either capture the magic of the iconic snack?
In one of the episodes Filipina chef Jess (Jessabel) Granada, the owner and head chef of Nanam, and Alfie Ingham, head chef at Hugo's Bistro, compete to replicate a Kiwi classic: the Big Ben Mince and Cheese Pie.
Backstory:
Jess opened Nanam Eatery with her partner Andrew in March 2015. They started their venture in a 4 metre by 4 metre space at the night markets of Auckland selling 'Taco Pao'.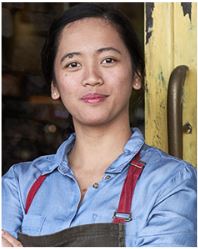 This stall was their humble beginning exploring Filipino cuisine and since then they have been serving both quality interpretations of classic Filipino dishes and daring new ventures into the uncharted territories of its cuisine.
'Nanam Eatery', which shifted from Royal Oak to a larger and exquisitely decorated space in Takapuna, is a 'next-level' Filipino restaurant that has been growing in popularity among locals and young Filipinos.
"We are going along the path of a modern Filipino restaurant," say Andrew and Jess. "We're trying to retain the bold Filipino flavours and are making it exciting by using our knowledge of the food and techniques we have learnt along the way. As we are relatively young chefs we tend to be adventurous with food."
There are 16 selections on the restaurant's menu and it changes seasonally. "We want to serve the produce that's in season, which keeps the quality fresh and the price affordable."
Read the food review at Halo Halo NZ by clicking on this link: https://www.halohalo.nz/2022/05/01/nanam-the-top-filipino-fusion-restaurant-in-auckland/