By Queenie Lee Tanjay
Cover photo: Aisha Ronquillo
Video credit: Aldrin Botona
Filipino-Kiwi Hero Awards: https://www.filipinoheroes.nz
Mary Rose Marfori will receive the 2021 Filipino-Kiwi Hero Award for Leadership in Promoting Outdoor Pursuits.
AUCKLAND – Anybody can attest that Aotearoa is unarguably one of the most beautiful countries in the world. From its abundant foliage to its exquisite panoramic views, it is easy to be bewitched by its natural beauty. Among those that continue to display a natural fondness of the country's landscapes is Pinoy Adventurers NZ. 
Pinoy Adventurers NZ is a social club that aims to bridge the Filipino and NZ cultures here in New Zealand by exploring outdoors. "It is about helping our kababayans to find the inspiration in nature to be themselves and to be the best that they can be, fueled by bayanihan, to create a stronger Filipino-Kiwi whanau," Mary Rose Marfori, the founder and leader, relayed.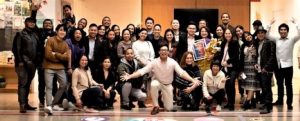 From its original core team of eight (8) in July 2017, the group has expanded immensely to a count of a thousand in its registry today. This accounts for passionate individuals who take part in the event management and promotional activities of the club. "The group is run purely by volunteers, either who have full-time jobs or who are in university, spending at least 500 hours of their time to help the community grow. It has been very rewarding seeing our members support each other to achieve their adventure goals," Mary Rose said.
The club leads outdoor activities, ranging from short walks and multi-day tramps to mountain bike (MTB) rides. In addition to these, Pinoy Adventurers NZ also provides free clinics and learning sessions to complement actual activities. "By the end of the year we envision to lead at least 30 outdoor and learning events with almost 500 Filipino-Kiwis and friends," Mary Rose revealed.
During its three year tenure the group has already covered 3,156 km and registered 1,227 active hours through its series of free activities. Among the highlights of the club's activities are the guided Tongariro Alpine Crossing in winter and the summit of The Pinnacles on the Coromandel Peninsula.
Meanwhile, it looks forward to materializing its plans with the Department of Conservation (DOC) and Council for volunteer projects, such as Planting Days. The group is also now back on its feet from a long hiatus through its active support of the government's post-lockdown campaign, #backyourbackyard. Monthly events from free walks to guided trips, covering the Great Barrier Island to National Park, will be organized to support tour operations, accommodation providers and cafes in the locality.
The club also hopes to offer summer adventures this year, such as kayak tours, standup paddleboarding and nature walks that showcase NZ landscapes (fauna and flora) and wildlife.
"Anyone is welcome to join the group, whether you're a newbie or an experienced adventurer, regardless of the fitness level and age," Mary Rose said. She also emphasizes that although the group bears the Philippine trademark, anyone who is keen to connect with the Filipino culture through the outdoors, regardless of their ethnicity, are welcome to come aboard.
Beginners can take advantage of the free safety and outdoor training provided by the group and several courses offered by the Arataki Visitor Centre. For challenging tramping trips, regular coaching from novice members can be heeded as well. On top of those, members are guaranteed to enjoy affordable fees for various trips under 'barkada' rates.
To join, one simply has to like the group's Facebook page, Pinoy Adventurers NZ, and they will become updated with a wide array of interesting information and events.
Everyone is likewise invited to join its Facebook group, Tambayan ng Pinoy Adventurers NZ, where the camaraderie includes the organizing of events through 'chikahan' (chats, conversations), sharing inspiring adventure photos and videos and giving gear advice, among other things.
"We all have to start somewhere and our group is a perfect place to do so," Mary Rose ended.
Mary Rose Marfori spearheaded Pinoy Adventurers NZ out of her passion for nature and mountain biking. She believes that gaining connections with the whenua (the land) and the tāngata (the people) gives her the balance to sustain her mental and spiritual wellbeing. Through years of assimilating Kiwi culture through work and immersion, her desire to bring out her Filipino core grew, leading to the inception of Pinoy Adventurers NZ.
She is a trained bush leader, an associate member of NZOIA – New Zealand Outdoor Instructors Association, a certified Outdoor First Aider with First Training and is trained in basic navigation and compassing by Outdoor Training NZ. Mary Rose has spent at least 7,000 hours in the NZ outdoors, investing in safety equipment such as a Personal Locator Beacon (PLB), survival shelters and first aid kits. On top of those she works in the culture space as a Senior Leadership & Culture Consultant for New Zealand Post.
Now, along with her, Pinoy Adventurers NZ is composed of a matrix of volunteers, namely: Matthew Alajas (admin work), Aldrin Botona (video editing), Maui Marcon (mountain bike clinic and ride leader), and Arma Dacyon, Mark Verar and Whingkie May Verar (group management).
Editor: Copyright SM Publications Ltd