By Mel Fernandez and Queenie Lee Tanjay
Every six years in Philippine embassies around the world a new ambassador routinely replaces the incumbent who is stationed there. In April 2016 the Department of Foreign Affairs in Manila announced that a seasoned career diplomat who had an illustrious career serving in the UN was being posted to New Zealand.
The high-power appointee was Jesus "Gary" Domingo, who has been with the DFA for over 32 years and was decorated by the President of the Philippines for his role in coordinating international humanitarian assistance for Super Typhoon Yolanda in 2013, promoting disaster risk reduction and management cooperation and directing Philippine UN Peacekeeping deployments.
To get an inkling of the man who was to reshape the traditional role of an ambassador, here is an endorsement from his friend, Gerardo 'Gerry' V. Eusebio, a Lecturer of Politics at De La Salle University.
"I have known Gary for more than 20 years. He was a student then at the University of the Philippines. Even as a student Gary was keen on his grasp of international and national affairs. His sense of history was likewise exceptional.
"When I left QC to transfer elsewhere, I heard that Gary topped the Foreign Service Officers Exam and I was not even surprised. Later on, I heard that he was posted in New York as consul and then to Saudi Arabia where he worked harder, ensuring the welfare of our OFWs.
"We finally met in the early years of the 21st century when he was the director of UNIO at the home office, a high position considering his age.
"To sum up, let me just say that we are lucky to have a public servant as patriotic, pragmatic and 'out-of-the-box' as him, to say the least."
This is confirmed by a Fil-NZ podcaster Mimi Rojo Laurilla, who notes that Amba Gary Domingo is "a very down-to-earth individual in his style of leadership. He knows how to get along with different types of people".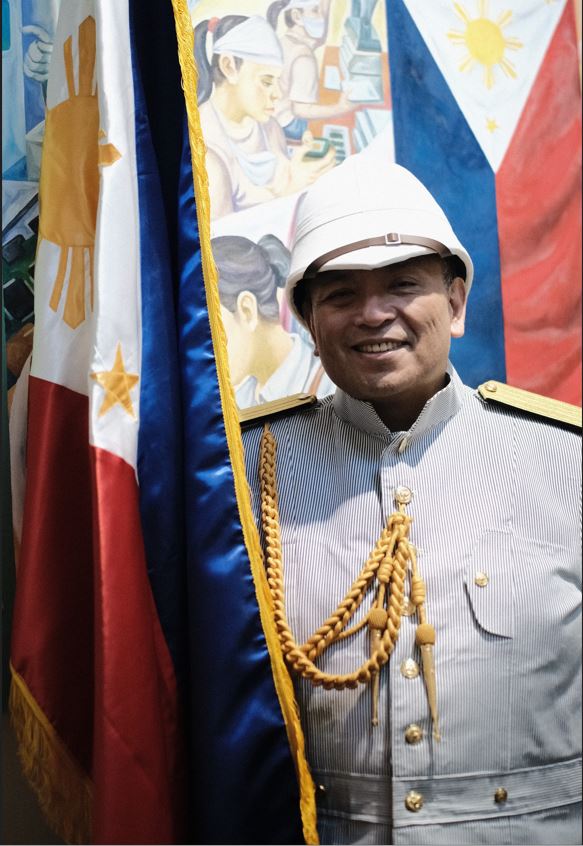 Sadly, all too soon Ambassador Gary is leaving his post in New Zealand as his term of office comes to an end on June 30th, 2022.
According to community leaders we polled, Amba Gary will be remembered as an 'Ambassador ng masa' – a people's ambassador. He is not perceived as a pen pusher stuck to a desk in the Embassy, because he has endeavoured to travel the length and breadth of New Zealand periodically to meet as many Filipinos as he was able to. During his tenure, 'Amba Gary' (as he is affectionately called) transcended his fortitude with multilateral relations and humanitarian services through various proactive programs championing migrant rights and welfare.
When asked by Mel Libre, the editor of the BAYANIZ blog page, as to what he counted as his most important accomplishments, he listed the following:
a) Opening a Philippine Overseas Labour Office (POLO) in Wellington
b) Establishing the Volunteer Ambassador Program (VAMBA) – a framework for empowering overseas Filipinos in NZ
c) Establishing Youth Ambassador (YAMBA) programs in numerous NZ Colleges with Philippine High School Partners
d) Managing the COVID-19 crisis – assisting Filipinos in need and running repatriation flights
e) Combating exploitative immigration advisers and education agents
As a diplomat at the time when global statecraft was challenged by a health crisis, Amba Gary arduously mobilized programs to help our kababayans endure financial and social challenges. He regularly engages through social media and online platforms, making sure that every need is always seen to, from health to labour, immigration and repatriation concerns.
As a staunch advocate of migrant rights himself, Amba Gary is remembered for his clamour to the NZ government to delve into the exploitation of Filipino students aspiring to a better life here. Amba Gary pushed for stringent codes of practice to be adhered to by agencies and institutions in order for international students to be "well-informed, safe, and properly cared for".
Aligned to this is his assignment as a 'White Ribbon NZ' Ambassador in 2018 under the campaign's aim to end Violence Against Women (VAW) and to include men in the narrative of promoting healthier relationships.
His parting words, as told to BAYANIZ, were: "It's been a great honour to serve the Filipino community in NZ – I've been blessed with the gift of your friendship – and I will continue to maintain our relations with the Philippines."
The persona he built from his fervour for Filipino culture and public service while also being pragmatic is truly worth emanating for the next generations. All of his contributions give him the rightful regard to be called 'Ambassador of the Masses', capping a decorated career here in New Zealand.
Whoever will take over his position has big shoes to fill, notes BAYANIZ. We concur as he was an out of the box Ambassador; he is one of a kind.