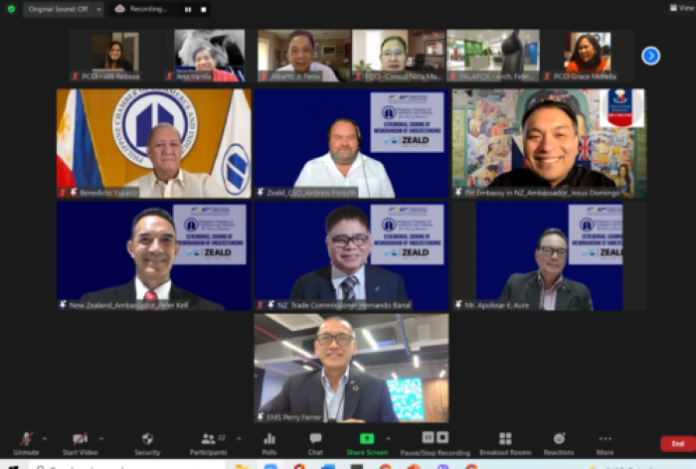 Zeald Limited is a website design and digital transformation company specializing in the rapid digital transformation of micro, small and medium-sized enterprises (MSMEs). The company has 20 years of experience working with MSMEs enabling digital transformation through the provision of e-commerce, lead generation websites, chatbots, integration, automation, training, and digital marketing.
PCCI, on the other hand, is the voice of business in the Philippines providing focused advocacy for business growth and sustainable development by providing business services for the advancement of grassroots entrepreneurship, chamber development, international trade relations, business innovation and excellence, and operational efficiency.
PCCI is thus proud to announce its official collaboration with Zeald Limited by accessing Zeald's services, training, and technical support. Under the MOU, Zeald will provide its e-commerce digital commerce technology suite which consists of an e-commerce engine, a shopbot and an individualized website free to interested PCCI members in accordance with the terms and conditions of its Get Ecommerce Movement (GEM).
Zeald will also provide free internships to PCCI members and assist them to develop practical digital skills through its GEM Academy. For members who require more than the standard digital tools and services, Zeald shall provide the digital transformation technology and services on a commercial basis.
"We are very happy to be able to partner with Zeald, the largest website design and digital transformation company in New Zealand," PCCI President Ambassador Benedicto V. Yujuico said during the MOU signing. The signing was also shown during the 47th Philippine Business Conference and Expo (PBC&E) held on 17-18 November 2021, organized by PCCI.
The MOU signing serves as the first step towards a productive and collaborative partnership between PCCI and Zeald, who both recognize the need for digital transformation amongst businesses in the Philippines. Digitalization was one of the main topics during the 47th PBC&E. The PCCI Committee recommended a list of resolutions that could help guide the country's economic recovery and included, among others, a resolution to fast-track internet connectivity at competitive rates.
"Zeald started working in the Philippines over seven years ago and we now have over 60 Philippine-based staff working in Davao city," Zeald CEO Andrew Forsyth said. "This strategic offshoring success has been absolutely key to Zeald's success, and not only gives us the cost advantage but also gives us access to a talented pool that is much wider and deeper than the market in New Zealand," he added.
"The Philippine Embassy in Wellington wholeheartedly welcomes the PCCI-Zeald MOU for IT and MSME support and connectivity, particularly as it advances PH-NZ business relations and the thrusts of NZ's hosting of APEC 2021," Philippine Ambassador to New Zealand Jesus B. Domingo said. "It is also an opportunity for the embassy together with the Philippine Trade and Investment Center in Sydney to reinvigorate its partnership with PCCI and the NZ IT sector.
The MOU virtual ceremony was signed by PCCI President Ambassador Benedicto V. Yujuico and Zeald Chief Executive Officer Andrew Forsyth and witnessed by His Excellency Jesus S. Domingo, Philippine Ambassador to New Zealand, His Excellency Peter Kell, New Zealand Ambassador to the Philippines, Mr. Apolinar E. Aure, PCCI director for SME Development, Mr. Fernand E. Ferrer, PCCI director for Innovation, and Mr. Hernando Banal, Trade Commissioner, New Zealand Enterprise