Exclusive photos by: Aisha Ronquillo, Photo journalist, Filipino News NZ
Video: Eduard Rogelio
AUCKLAND – Ethnic community – led 'pop up vax clinics' aimed at boosting our immunisation rates following the recent lockdowns are yet another addition to the government's arsenal of tools to curtail the impact of the dreaded Delta virus.
Dozens of people have taken advantage of these pop-up Covid-19 vaccination clinics which operate alongside the vaccine rollout programmes at the main vaccine centres across the city, participating General Practitioners clinics and pharmacies and recently, the drive-through vax centres.
The recently held Unichem Browns Bay community vaccination event, co-ordinated by the WDHB Asian Health Services, has helped boost numbers in the Filipino community.
More than 250 members of the Auckland Filipino community have already had their jabs at the pharmacy which will run over five days, says Romy Udanga, the spokesperson for a group that spearheaded this program. Other vaccination dates for the community are on September 22nd and October 2nd., both either for first or second dose.
"Over a month ago a group of our community leaders were discussing how we can help to get everybody vaccinated," Udanga elaborated.
"When we first launched the project we got a lot of enquiries and many came to avail of the vaccine. But when the government opened numerous vaccine centres some said they were going to the centres that are closer to them.
"We continued with our project and still many are coming, mostly those who live not far away from North Shore and those who got schedules past October but are fit to have the vaccine already.
"Those who may have hesitated to get vaccinated elsewhere knew they would be comfortable coming together as families with their children and some, with their flatmates to have their vaccination in a familiar, safe and friendly environment.
"We invite everyone to get a jab and we will be available to assist them and ensure that the cultural aspect of it is catered for.
"We are reminding Filipinos that the vaccine is now easily available and that it is free of charge. And it did'nt matter if one is on a visitor visa or a temporary visa as no identification is required."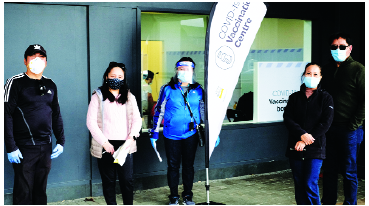 The team is composed of community volunteers Romy Udanga, Oscar Batucan, Meldz Y. Opanes-Kircher, Dennis Magcalas, Janine Ramos, Aida Fabian, Kristen Maturan, Sarah Lipura, Joel Meneses and Jocelyn Vicente – Angeles.
RAMPING UP THE VACCINE ROLL OUT
AUCKLAND – Hundreds of members of Auckland's Korean, Filipino and Chinese communities have been vaccinated against COVID-19, thanks to the efforts of a North Shore pharmacy.
Unichem Browns Bay, supported by Waitematā District Health Board's Asian Health Services and the Albany Vaccination Centre, has been hosting a series of special clinics for each ethnic group over the past 12 days.
Unichem Browns Bay pharmacist Christina Shin said that the clinics have been an overall success.
"It's fantastic to see these groups coming forward together to protect themselves, their families and their wider communities against COVID-19."
She said that the two weeks were busy, with around 210 members of the Filipino community getting vaccinated. 209 members of the Korean community were also vaccinated at the pharmacy on September 8) and around 60 people from the Chinese community took up the opportunity on September 2.
There are also plans to include around 50 members of the Myanmar community in the group vaccination clinics.
Unichem Browns Bay is one of 51 Auckland pharmacies participating in the vaccine rollout programme – 118 General Practitioners (GPs) are also involved.
The Unichem Browns Bay vaccination clinic is open daily (from 9am) and anyone is welcome to book an appointment.

People can also attend the North Shore Airport drive-through centre in Dairy Flat from Wednesday to Sunday, or the Airport Park-and-Ride in Māngere any day. The sites are open 8:30am to 3:30pm and bookings are not required. People can bring their whole bubble in their car and anyone aged 12 and over can be vaccinated.
Anyone who hasn't yet received their first dose is being encouraged to book in and get it this week.
Lots of appointments are available at centres across the city and people can make a booking online at bookmyvaccine.nz or by calling 0800 28 29 26.
Editor: Please note that the times and locations mentioned in this article were correct at the time of posting online. You are advised to confirm availability by booking online or visit the official website: www.covid19.govt.nz