(left) Jesil Cajes, Radio Host of the 'Cultural Connection' show which airs on Hutt City FM 106.7 from 6-10 pm on Mondays.
LOWER HUTT, Wellington – New Zealand is a very diverse country. In fact, there are more ethnicities in New Zealand than countries in the world – 230 ethnicities to be exact.
Cultural Connection is about connecting people of all cultures that exist in New Zealand.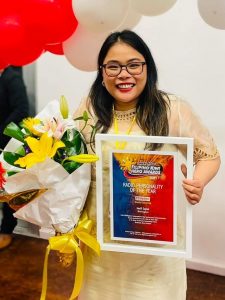 (right:) Jesil Cajes, Radio Personality of the Year 2021. Filipino-Kiwi Hero Awards: www.filipinoheroes.nz
Our goal is to give every single ethnicity in New Zealand a voice, one week at a time.
The reason for this is two-fold. One is to increase our appreciation of the different cultures that exist in New Zealand and secondly is to bridge that gap of understanding of stereotypes and how we can live together as a harmonious society.
It is intended for every single new Zealander living in New Zealand and all over the world.
Listen to Hutt City FM 106.7 online every Monday 6-9pm: http://huttcityfm.co.nz