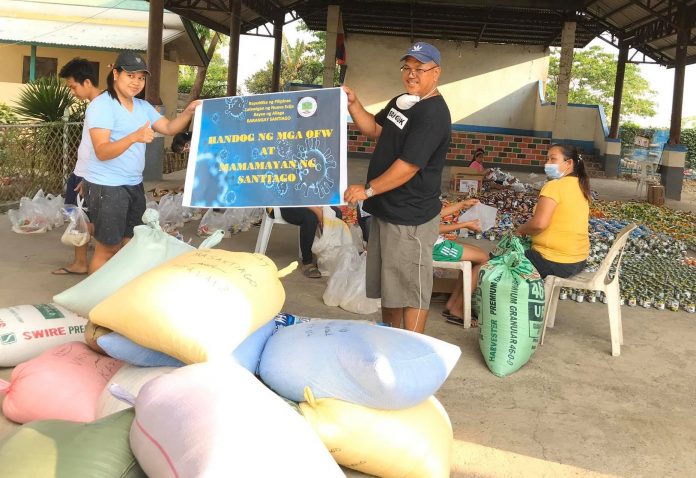 By Sheila Mariano
MANILA – The first case of coronavirus was reported in the Philippines on January 30, 2020 and the number of infected people kept rising as the days went by.
As of April 13, 2020, there have been 4,932 confirmed cases of the disease in the country. Out of these cases there have been 315 deaths and 242 recoveries according to reports.
On March 17, 2020, the government started the month long 'Enhanced Community Quarantine' (ECQ) to stop the spread of Covid-19 across Luzon.
Many businesses were obliged to stop trading. Only essential services could operate and only essential workers were allowed to move freely.
As a result a whole lot of people were suddenly strapped for cash. In the Philippines household incomes are derived from daily wages, profits from selling goods, contractual work (construction workers), driving a bus, jeepney or tricycle and street food vending, just to name a few.
The Philippines' current population is 109,260,416 million (as of April 13, 2020), based on Worldometer's elaboration of the latest United Nations data. And 63 million of them are living in Luzon according to population.city. How will the government manage to feed this many people during the month long ECQ?
The Philippines President Duterte, in his speech on March 30, said: "I also appeal to the private sector to contribute, in any way you can, to dealing with this national emergency. We implore employers to do their part to protect the welfare of the millions of Filipino households that belong to the formal sector and depend on their employers for continuous livelihood."
One citizen who answered this plea for help was Erwin Castillo, 41, who hails from Barangay Santiago, but is now working as a scrapyard helper in Sydney, Australia, for a year.
He created a chat group on Facebook for people who are originally from Barangay Santiago. You could become a member if you were currently living there, or lived there and had moved to different parts of the Philippines or were located overseas as Overseas Filipino Workers (OFW). I was one of many invited to join the group.
The name of the chat group that Castillo created is titled: 'sama sama para sa mga taga santiago' (together for the people of Santiago). Its objective is to solicit funds or donations to provide relief goods either in cash or kind to the people of Barangay Santiago, who need help.
In just a matter of days the group solicited a considerable amount of cash from local and overseas remittances, sacks of rice and boxes of instant noodles.
They managed to organise 665 packs of relief goods consisting of rice, instant noodles, tinned sardines, soap, laundry powder, basic condiments and coffees. On Easter Sunday these were distributed from house to house.
This particular project was spearheaded on the ground by Joselito Policarpio with the help of Santiago Elementary School's Teaching Force and some of the young citizens of the barangay.
The chat group members were informed that the project was a resounding success and that a second wave of distribution was on the cards as people were continuing to donate money.
If concerned citizens are ready to come forward and help in Barangay, Santiago and the rest of the Philippines our kababayan will no doubt survive this pandemic.
BACK STORY
about Barangay Santiago
By Sheila Mariano
Barangay Santiago, is in the municipality of Aliaga, Nueva Ecija, on the island of Luzon, just a three-hour drive from Metro Manila.
According to the 2015 Census the population there is 2,197 people.
This agricultural area is not new to experiencing natural calamities, in fact it is hit by typhoons every year with devastating effects. Then there was a deadly 1990 earthquake that hit Central Luzon and the eruption of Mount Pinatubo in 1991 with ash rain falling down for many weeks.
But never before have the residents experienced being locked up at home and not being able to go back to work in order to put food on the table.
I have a soft spot for Barangay Santiago, as my family relocated there from Metro Manila when I was 10 years old. At that time there was no electricity, no running water, just gravel roads and the town's market was only open on Tuesdays and Thursdays. You didn't see people on the road after six in the evening.
Over here the rice fields stretch out in all directions and we can see Mount Arayat on the horizon from our backyard.
Most of the locals are rice farmers. Houses are mostly made of wood; a little better than a nipa hut and a few are made of concrete but modest in size.
In the 80s there were probably less than 1,000 people living there. You basically knew everyone who lived there.
There was not much traffic going by. Only the farmers with their carabaos, the hand tractors used by farmers for transportation and a few tricycles and bicycles.
…………/ ends