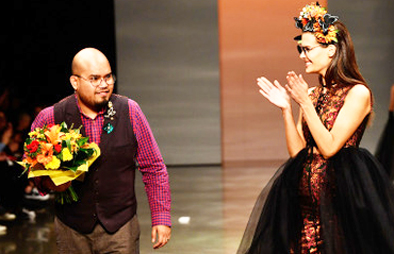 Ruscoe Bustenera-Kirby, a Filipino Fashion Designer from Auckland, participated in the emerging couture category of the New Zealand Fashion Week held in Auckland from 27 August to 2 September 2018. Maria Siangyco spoke with him after the show.
Q: Please give us some background about yourself.
A: I was born in the humble town of Lucena in Quezon province, the Philippines. My parents are Roy Bustenera and Resurreccion Lagos (deceased). I basically lived my whole childhood and teenage life in Lucena. I studied at Sacred Heart College from kindergarten until the first few years of university. I Finished a BSc in Computer Science in 2001 and moved to Manila and started a job. I then moved to NZ in 2011.
My dad has been living in NZ for most of his working life. He was able to establish a good company here that was able to support my move to NZ. My sister, Lady Orange, first moved here with her family. I was then encouraged by both of my parents and my sister to finally move for good and start a new life in NZ.
When I moved to NZ I helped my dad with a few businesses he was able to set up. I did a few part time jobs on the side to to get familiar with the NZ working landscape. From there I was able to grow my portfolio in Learning and Development.
Q: How did you end up in the fashion industry?
A: Creativity has been my passion and the core of my make up since I was a child. However, growing up in the small town of Lucena in the Philippines, following your aspirations and dreams was not something that was considered realistic or given too much encouragement to indulge. My priority had to be on deriving an income and supporting my family.
Looking back on my earlier life as a gay man from a small town, I realised that I was the fashionista of the group. I would try making different fashion statements, like wearing hats, accessories or interesting clothes. Most people would think of them as weird or funny.
During visits to my friends I would turn bed sheets and curtains into long gowns and put on a fashion show for them. I would even try on my sister's 'Maria Clara' yellow ball gown. It was the puffiest skirt I'd ever seen.
It' wasn't until I moved to New Zealand that I realised my passion for fashion design, because suddenly, aspirations and dreams seemed more achievable. It was at the same time that I started losing the most important people in my life, my mama, then my sister, then my nanay. They kept reminding me that life is short – too short. During this time I also met my husband, Paul. He was my motivator and my number one fan. Little did I know that these events in my life would be the push that I was waiting for, and so, my journey began.
Q: How and why did you enter NZFW 2018?
It wasn't my plan to enter this year, because I am quite new to the industry and a big project was supposedly in the pipeline. I introduced my Ruscoe brand through social media and on the world wide web 2 years ago. People started noticing my designs and I was getting positive feedback, so I decided to go full throttle. I applied for NZFW and felt a bit iffy at first. Somehow they were able to convince me to really give it a go, because they liked my talent. I'm fortunate enough that they took me in and put me in the emerging couture category, which is a first for NZ Fashion Week.
Q: Tell us about your creations for the NZFW runway show?
The collection is called 'Tres Marias' – inspired by my nanay – Lagrimas, my mama – Resurreccion and my sister – Lady Orange. The three most important women in my life. This is me showcasing their favourite silhouettes (not sure what they mean here, but silhouette isn't the right word) and their personalities. My nanay loved being in the church, my mama loved dancing and my sister was a born leader. So I mixed up all of those elements to make Tres Marias.
This collection is not only dedicated to my nanay, my mama and my sister. This is also dedicated to the people and families who have been struck by cancer. This is me telling them that they are not alone. That I understand them. That it's okay not to be okay. They can run to their hobbies and passions when they feel that they are being swallowed by the whole situation. They can use these to get them through tough times. As they say, you can't change the direction of the wind, but you can always adjust your sails.
The pieces are eclectic, quirky and edgy. With texture, bold prints and movement. I was basically challenging evening wear. That it can be edgy, it can be separates, it can be bad-ass. I showed something that is unique and fresh. It's modern couture.
I played with a tightly edited colour palette of black, rust orange, off-white, electric pink and silvers. I used brocades, fringes, silk and velour as my main fabrics. I created column dresses with fringe details, cocktail tulle gowns, a wide-leg jumpsuit and separates. I did all the styling for the show as well.
I love that after the show people applauded my aesthetic and understood where I'm coming from. FashioNZ gave me an awesome review, saying that the collection is the most cohesive and most wearable. Sanspareil online added my wide-leg jumpsuit as one of the key fashion trends. A lot of fashion influencers are re-posting my collection, saying that they love my pieces. My social media basically blew up the following day and I wasn't expecting it. I am over the moon.
Q: Any plans post NZFW 2018 in terms of your career?
A: I have big plans. I'm getting a lot of clients at the moment and I have my work cut out for me. I will continue to show pieces online and do couture. I'm making made-to-measure unique pieces for people who want to stand out from the crowd. I want to take it world-wide and start building relationships and clients all over the world. At the moment I have clients from Australia and Dubai, and one big event might showcase one or two of my pieces, so I'm really stoked about that. The end-goal is to establish a couture house that is known and celebrated world-wide. And big names will be wearing my clothes on the red carpet.
People can see my works of art and contact me on Instagram @redruscoeartfashion, Facebook page @Ruscoe Artfashion and my website is: http://ruscoe.wixsite.com/ruscoeartfashion.
Q: Any tips for aspiring fashion design students?
A: Hard-work, patience and dedication. Some of the key attributes that helped me reach for my dreams. Do not stop. When you feel as if you're clueless regarding where you are heading, just keep in mind that this is natural. People are afraid of the unknown. What's important is that you keep visualising your end goal and you keep working towards it.
Kindness and humility. Some of the key attributes that helped me build strong relationships and clientele. Kindness and humility to everyone you meet. I'm a hugger, so I give lots of hugs. And, of course, a genuine thank you and smile goes a long way. I'm so happy that during the Fashion Week I was able to give hugs to the helpers of the show backstage and the models as well.
A healthy mind and a healthy heart. The two most important foundations of your success. Keep your family and friends close. They are the ones that truly believe in your talent and will cheer you on for life. No matter what.