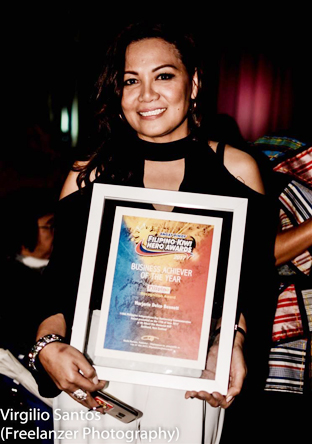 Filipino-Kiwi Awards highlight Filipino community
By Louie Encabo
www.filipinoheroes.nz
Living the life of an immigrant can be difficult at times. Being in a foreign land, adapting to an alien culture and feeling homesick can wear one down easily.
Thankfully, by interacting with fellow migrant compatriots we find a sense of community. That was exactly the case this month at the inaugural Filipino-Kiwi Hero Awards organized by Filipino News, a function showcasing the many contributions of Kiwi-Filipinos in New Zealand.
Dozens of Kiwi-Filipinos, colloquially called 'Kiwipinos', were given recognition for excellence in their particular fields in an event showcasing the Filipino community.
The author of this article was among those chosen to receive an award with the title of 'Popular Columnist of the Year' for his service to this publication. It was a humbling gesture, but what was more moving was the scene I witnessed.
A crowd dominated by Filipinos, a handful of whom wore traditional Filipino costumes, in a function that highlighted the New Zealand Filipino community. The event was also graced with sumptuous Filipino food, to the delight of all attendees. Denise Krum from the Auckland Council and Dr Mary Dawson, Auckland Regional Migrant Centre, were in attendance to deliver speeches and to formally present the awards.
The awards ranged from the field of business, to entertainment, to sports as well as community service. Setting aside individual acclaim, the Filipino-Kiwi Hero Awards was important as it praised the growing Filipino community.
This event showed our adopted country, as well as our fellow kababayans who have found homes here in New Zealand, that there is a Filipino presence in this country that cannot be ignored.
The latest census survey shows that the Filipino population has surpassed the 70,000 mark, with the bulk of that number residing in Auckland.
Prominent Filipino groups such as the New Zealand Philippine Business Council (NZPBC) are being established, something to be celebrated. Filipino restaurants are also sprouting up across the country, being enjoyed by the local population and helping ease homesickness for many Filipinos. Not to forget, several Filipinos have featured in national talent competitions and sporting events as well.
Yet these achievements almost go unnoticed everyday by our kababayans.
Did you know that there was an all-Filipino boy band that featured on X-Factor? Are you aware that a half-Filipina is representing New Zealand in international volleyball tournaments?
There was a time when the Filipino community of New Zealand was marginal; in fact the country is not a known destination for migrating Filipinos – who usually opt to shift to neighbouring Australia, the United States or countries in the Middle East. But times have changed, our numbers are growing and our contributions are making genuine impacts.
So much so that former New Zealand Trade Minister made an official visit to the Philippines along with Kiwi businessmen, hoping to strengthen trade relations between our two countries and to attract Filipino entrepreneurs into the country. Starting in February of this year Filipino citizens can avail themselves of a working holiday visa in New Zealand – allowing more Filipinos to start a life here.
These reforms cannot be coincidences; there had to be a reason for them. The most plausible being that New Zealand is recognizing the contribution of Filipinos and would like to invest in giving more of our kababayans a chance to shine in this country.
The Filipino-Kiwi Hero Awards help make that happen. The event is a step forward towards cementing a strong presence here in New Zealand and showing the country that the Filipino-Kiwi community is relevant and is making an impact. It highlighted the many achievements made by our kababayans here in our newfound home and showed that we are not to be ignored.
Each day we live the life of a migrant we feel alienated; we are essentially foreigners after all and for most of us our idea of home is still the Philippines. However, that stigma of being irrelevant and unknown in this society will soon be gone. Filipinos are making a name for themselves in New Zealand and all of us should eagerly wait for when a new Filipino-Kiwi Hero emerges.